Agwenda Women Input Loan Initiative (AWILI) (supported by CAT) in partnership with SeedCo Malawi have been conducting seed demonstrations with farmers around Kayoyo Village in Linga EPA, Nkhotakota. The aim of the demonstration was to display different certified seed varieties coupled with Good Agriculture Practices for farmers to adopt. Soybean of serenade variety and maize of SC-617 (Njobvu) are a darling to the majority of farmers. The demonstrations have triggered demand for certified seed varieties as opposed to the use of recycled seeds. Mr. Damiano is the lead farmer who volunteered to be the custodia of the demo plot.
Mrs. Erida Damiano (42) from Kayoyo village, Village Headman Danielle, GVH Kalambiro, Zidyana EPA in Nkhotakota has always sourced certified seeds from Agwenda Agrodealers, a partner of SeedCo; a leading supplier of high quality and certified hybrid Cereals, legumes and vegetable seed varieties across Africa. Agwenda Agrodealers then supports women and youth farmers with improved and certified seeds (from Seedco) paid back in harvest through Agwenda Women Input Loan Initiative (AWILI), an initiative supported by CAT.
Noticing a steady good harvest for the past 4 years having used  certified and improved seeds, Erida who stays alongside a busy road saw an opportunity of mounting a demo plot for road users (mostly farmers) to appreciate the need to move away from recycled seeds.
"Since i joined AWILI, my household has had food security due to the steady bumper harvest resulting from using certified seeds and practicing good agriculture practices." She clarified.
I want to share this little secret with my fellow farmers  so thay they too can have bumper yields by simply changing from using recycled seeds to certified seeds coupled with good agricultural practices such as right spacing, manure application and minimum tillage among others. I am also demonstrating different SeedCo Maize seed varieties such as Kanyani, Mbidzi, Mkango and Njobvu that have different maturity days and yields. For Soybean seed varieties, am demonstrating local recycled seeds, makwacha and serenade.  Am thankful to Agwenda (AWILI) extension officers for helping me establish these plots for farmers to make informed decisions." She narrated.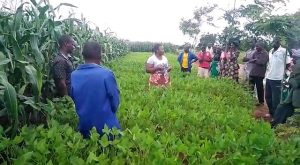 Seeing is believing, Kayoyo farmers have fallen in love with Njobvu maize seed and Serenade Soybean variety as evidenced by the high yields being realized from the demo plots. No wonder, the Damiano family have also been favourites of the same seed varieties.