Trapped in a vicious farming cycle for over a decade, Charles Museni decided to try-out CAT through its implementing partner AWILI in 2021. A rice farmer who barely yielded enough harvest to feed his family and later-on practice rice farming as a business attended a CAT program sensitization meeting and his story has never been the same.
Charles Museni born 49 years ago is a lead farmer for CAT program at Dalaji club in Malengasanga village, GVH M'malengasanga, T/A Malengasanga, Linga EPA.
CAT through its implementing partner AWILI conducted a sensitization campaign about CAT program and its intentions to uplift the farmer's livelihood through access and adoption of improved farming technologies in a profit oriented manner. Charles, being a lead farmer encouraged some of his farmer friends to join and pilot the program.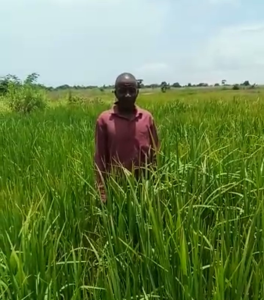 "I took an input loan package of 5kg improved rice seed-Kilombero and chilies seeds in 2021 and produced 1000 kgs of paddy rice from a usual 400 kgs on the same plot. I planted using system of rice intensification (SRI), a new planting technique taught by AWILI, this has never happened in my life, I was stunned, that year I encouraged my daughter to join as this would help her engaage into commercial agriculture and achieve her goals faster than her friends''.
In 2022/23 he took another chilies and rice input loan upon seeing the benefits emanating from previous season including the steady market provided by AWILI thanks to the continued support from CAT.
The following year Edith Museni, daughter to Charles, aged 29 (female youth), joined Dalaji club after seeing the bumper harvest and good markets that fetched good returns and increased incomes from her father. She accessed improved rice seeds and adopted the SRI rice farming technique. She expects good yields.
"We are grateful to AWILI for bringing us these improved seeds, we are happy and are expecting great yields this year, i will encourage my fellow youths from the community to join AWILI, I will have a increase my farm acreage next season, our household will surely benefit finacially from this ." She explained.
AWILI is a self replicating model that has seen smallholder farmers graduate from small scale to semi-commercial farming by expanding their farm land size multiple folds to accomodate their agribusiness growth.